Forthcoming Events
This Sunday morning, 4th December, we shall be celebrating the Festival of the Buddha's Enlightenment. There will be meditation at 9.30am and 10.00am and the festival will begin at 10.45am, with a short rehearsal beforehand. Afterwards, there will be a Dharma talk and discussion, helped along by coffee and cake. You are welcome to join us for any part of the morning, if you're not able to make it for the whole time.
On New Year's Eve, there will be a Meditation and Contemplation Day, which provides an opportunity to turn within at a time when we naturally tend to reflect on the year that is ending and to contemplate the direction of our life in the year ahead. This is a chance to schedule your own retreat for the day, or part of the day, as you are welcome to come for as long as suits you and to join in with as much of the meditation as you would like. In the evening, there will be meditation at 7.30pm and 8.10pm. Then we celebrate the New Year Ceremony at 9.00pm (preceded by a brief rehearsal). You are welcome to stay on afterwards for a social celebration (including tea and biscuits), which will end around 10.00pm. New Year's Day will be marked by a Sangha Morning with a Renewing the Precepts Ceremony, which is an opportunity to begin the year by reaffirming our commitment to live by the Precepts.
More information about all of these events can be found on the calendar on our website.
Priory Closed
The Priory will be closed 5th – 16th December (inclusive), apart from on the Wednesdays, 7th and 14th, when it will be open from 7.30pm, for the Sangha to meet together for a Dharma Evening. There will be another closed period 22nd – 27th December (inclusive), when there will be no events happening at the Priory.
Wymondham Day Retreat in April
We shall be holding a day retreat at Fairland Church Centre in Wymondham, the regular venue for our spring retreats. This will be on Saturday 22nd April, from 10.30am until 4.00pm. More details will be given nearer the time.
Third Anniversary
We celebrated the Priory's third anniversary on 6th November and it seemed very apt that this day was the 20th anniversary of the death of Reverend Master Jiyu-Kennett, the Founder of the Order of Buddhist Contemplatives. We held a festival ceremony to express our gratitude for her life and teaching – it is because of her steadfast life of training that we have this Priory where we can train together. The Dharma talk afterwards focussed on Rev. Master Jiyu's teaching on 'The Perfection of Zen' and how this is found through zazen and doing the work that needs to be done – by following her example of uncomplaining all-acceptance, we can come to know complete peace and freedom, as she did.
Below are pictured some of the Sangha who attended the festival, around the main altar.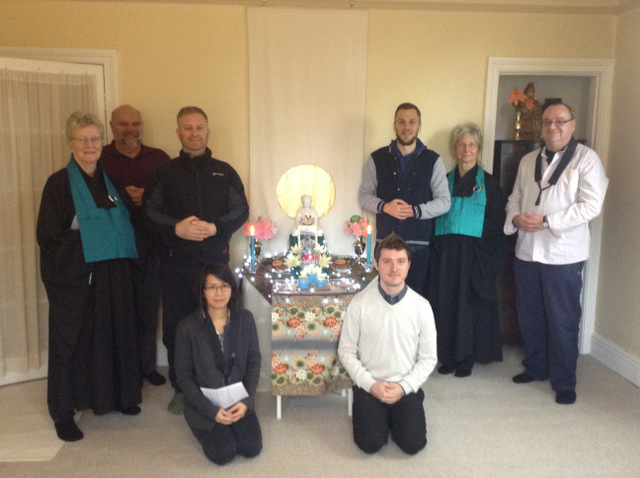 Thanks
I am very grateful to those who continue to offer practical help, such as cleaning the Priory and tidying the garden, doing the accounts and bringing food donations. It all helps enormously in keeping the Priory running smoothly.
With best wishes and in gassho,
Reverend Leoma