Forthcoming events
The Priory will be celebrating Wesak, the Festival of the Buddha's Birth, next Sunday, 6th. You're very welcome to join us for any part of the morning's schedule. At 9.30am and 10.00am, there will be meditation periods. The festival is due to begin at 10.40am, with a short rehearsal beforehand. Following the ceremony, there will be a Dharma talk and discussion (with coffee and biscuits). More details can be found here. Below is photo from last year's Wesak ceremony, showing the ladling of water over the baby Buddha.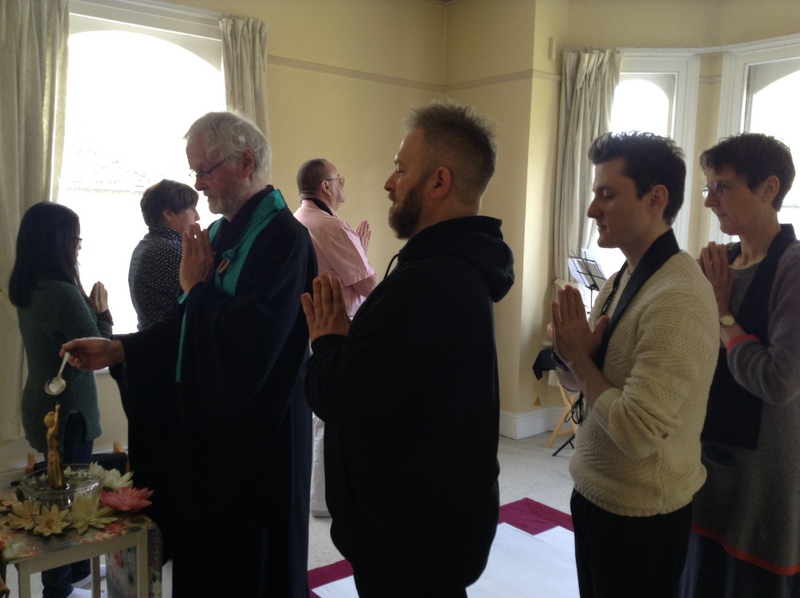 The Priory will be closed 8th – 21st May (inclusive), except for the Tuesdays (8th and 15th) and the Wednesdays (9th and 16th), when it will be open from 7.30pm, for the Sangha to meet together as usual to meditate and then listen to a recorded Dharma talk.
The next Sangha Stroll will be Sunday 13th May, starting at 2.00pm and finishing with refreshments in the Sainsbury Centre Cafe. If you'd like to take part, please meet at the UEA Lodge, near the UEA Main Car Park.
Sunday 10th June is the date for this year's Summer Party, an informal social gathering for Sangha and family. It will take place in Erpingham in North Norfolk, where it's been held for the past couple of years. There will be a bring-and-share lunch and lifts will be available from the Priory. Please contact the Priory for more details.
Recent events
The day retreat in Wymondham on 21st April was well attended by Sangha members from Norwich and Cambridge. The Dharma talk focussed on exploring how this here now is our gateway. It was good to come together as a Sangha to sit and share our experience of practice, especially in the lovely setting of the Fairland Church Centre. These day retreats always feel like a precious opportunity.
Schedule change
We have recently changed the format of the Thursday evenings, to a Dharma Evening (from a Meditation Evening). This is suitable for anyone and it could be an alternative to either the Tuesday or the Wednesday evening. The format is similar to the Wednesday evening, with evening service, followed by one meditation period of 30 minutes – then there is tea and we listen to a recorded Dharma talk and have a discussion, finishing around 9.15pm.
Thanks
I am very grateful for all sorts of help that I've received in recent weeks: providing a place for me to have a week of retreat time; garden maintenance; producing the Priory's Wesak cards; ongoing work on the Priory's book-keeping and accounts; and help with cleaning and housework.
With good wishes to you, at this time of celebrating Wesak,
In gassho,
Reverend Leoma