Forthcoming events
On Sunday 5th May, we'll be celebrating Wesak, the Festival of the Buddha's Birth. The festival ceremony begins at 10.45 and it will be preceded by a short rehearsal. Before that, there will be meditation at 9.30 and 10.00. After the ceremony, we'll have a Dharma talk and discussion (with coffee and cake/biscuits). You're welcome to come along to any part of the morning. (If you're not able to make it for 9.30, you can join us at the end of one of the meditation periods, at 9.55 or 10.35.)
The Priory will be closed 6th – 20th May, except for the evenings of the Tuesdays (7th and 14th) and Wednesdays (8th and 15th), when the Sangha can meet together as usual, to meditate and listen to a recorded Dharma talk.
There will be a Discussion Morning on Saturday 1st June, at 10.00. The topic will be 'Training in Challenging Circumstances'. Previous Discussion Mornings have focussed on training with mental health issues or with physical health issues. It is hoped that the upcoming discussion, being broader and more general, can include both of these areas and more. Everyone is welcome to attend.
Our Summer Party this year will be on Sunday 30th June, starting at midday. It will be held in Erpingham in North Norfolk, where it has taken place for the past couple of years. This informal gathering is an opportunity for Sangha and family to socialise in a relaxed setting, away from the Priory. There will be a bring-and-share vegetarian lunch. Lifts will be offered from the Priory at 11.00. For more details, please contact the Priory. There will be meditation periods at the Priory earlier in the morning, at 9.30 and 10.00, as usual (ending at 10.30), with the opportunity to have some tea or coffee before we leave for the party.
Looking ahead to the autumn, our next day retreat will be in Cambridge on Saturday 19th October. The venue will be the Quaker Meeting House in Hartington Grove, where we held last year's retreat. Lifts will be available from the Priory. More details will be posted nearer the time.
Recent events
The day retreat at Wymondham on 30th March was an opportunity for the Sanghas of Norwich and Cambridge to practise together in the comfortable and spacious setting of the Fairland Church Centre, which had been recently refurbished with new carpet and a new kitchen. The theme for the day, which was set by the morning's Dharma talk, was 'What is This Sense of Self?', a question that gave some direction to our meditation and prompted a helpful discussion in the afternoon. Below are some photos taken on the day.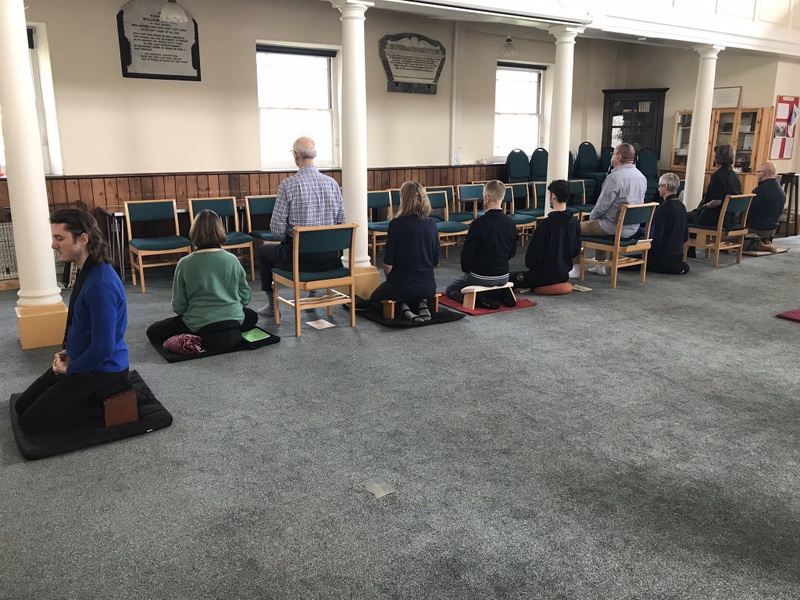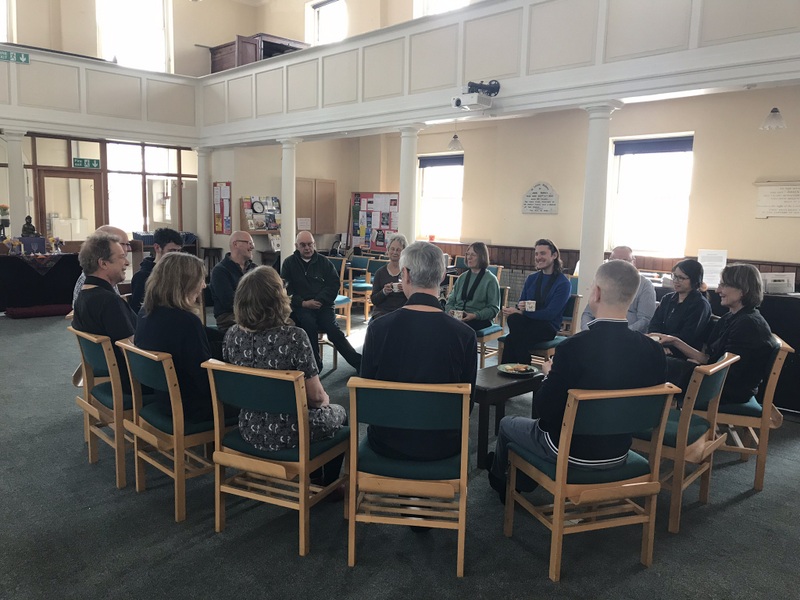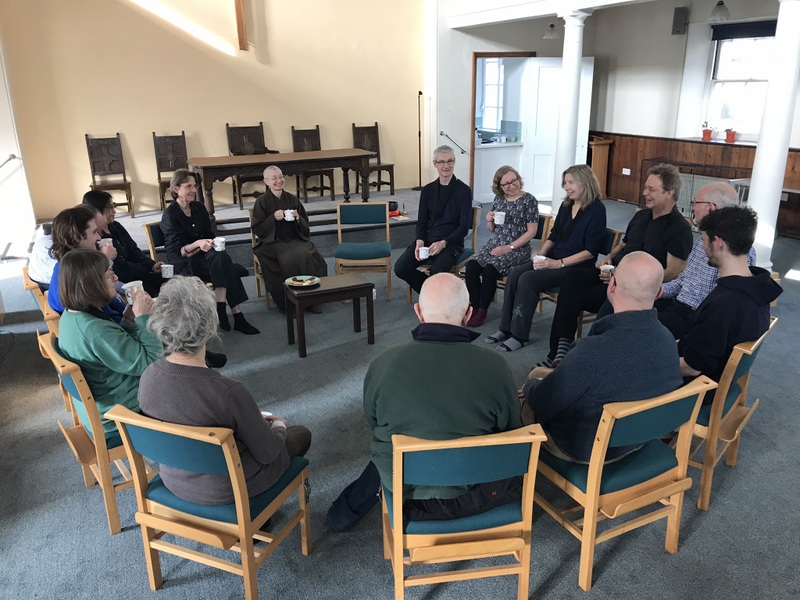 Thanks
My thanks to the team of regular helpers who have been assisting with gardening, maintenance and housework, as a result of which the garden is looking particularly well-kept and colourful, several of the chairs in the common room and meditation room are no longer wobbly, and the Priory is clean and tidy. I am also grateful for recent help with our website and producing the Priory's Wesak cards, as well as the ongoing work to keep our accounts up-to-date.
With best wishes and in gassho,
Reverend Leoma