Forthcoming events
On Saturday 30th March, we'll be having our annual day retreat in Wymondham, at the Fairland Church Centre. The retreat will begin at 10.30am, with people welcome to arrive from 10.00am, and it will finish at 4.00pm. If you're not able to stay for the whole day, it's fine to join in for part of the retreat. The schedule for the day can be found here. It would be very helpful if you could bring your own meditation equipment to the retreat. Otherwise, there will be some wedges available for sitting on chairs. For lunch, please bring your own sandwiches or packed lunch. For people travelling from Norwich, we are arranging lifts from the Priory, with cars leaving at 9.30am. If you would like a lift or are able to offer a lift, please contact the Priory. The Priory won't be open on the following day, Sunday 31st March.
Recent events
In early February, we held a second Discussion Morning on training with physical health issues, which was an opportunity to examine some of the challenges encountered and also aspects of practice which can be particularly helpful in this area. It seems that the format of a Discussion Morning is appreciated, as a different way of talking about training. Instead of me giving a Dharma talk and then inviting comments and questions, the discussion format starts with people talking about what's important for them in their practice and then we see which issues are good to explore further. It was felt that it might be helpful to expand this approach beyond the focus of training with physical or mental health issues and to have a more generalised Discussion Morning on training in challenging circumstances. This will take place on Saturday 1st June, at 10.00am, and everyone is welcome to attend.
On 3rd February, we had a memorial ceremony for Rupert, Chris Yeomans's canine companion of 14 years, who had died suddenly a week before. Rupert had received ordination as a puppy and a photo of that event was placed on the altar, with another photo of him as an older dog, as well as some doggy chews and a tennis ball, as can be seen below. Afterwards, we enjoyed some cookies, grapes and coffee and we shared our reminiscences of Rupert.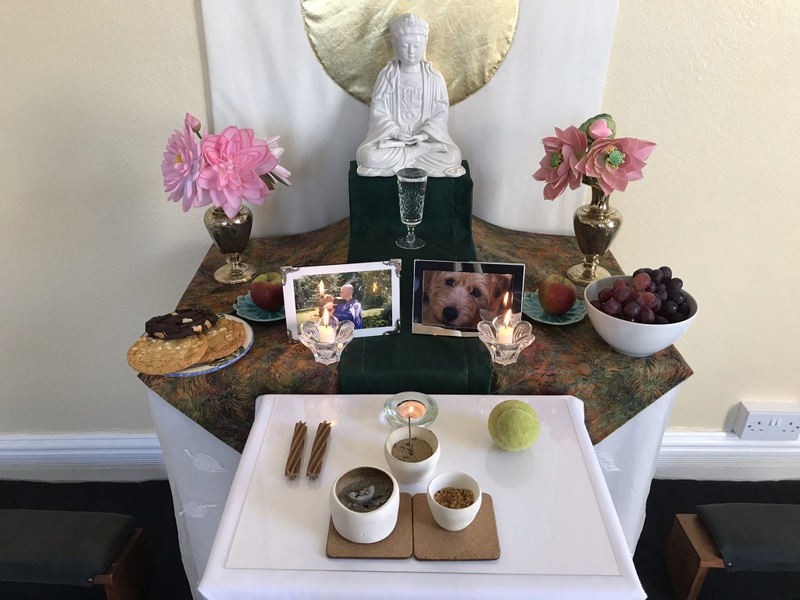 Thanks
I am grateful to everyone who enabled me to have a week of retreat and rest time in Wells-next-the-Sea recently, by providing me with a place to stay and by looking after the Priory while I was away, especially ensuring that the Priory could be open for two evenings during that time.
My thanks to those people who have stepped forward recently to offer help with various jobs around the Priory, including cleaning, gardening and DIY, as well as with computer queries.
With best wishes and in gassho,
Reverend Leoma