Happy New Year
As 2018 begins, I'd like to wish you all a peaceful and prosperous year. At this time, we can be grateful for the opportunity that we have had to train during the past year and we can commit ourselves, in this new year, to grounding our lives in zazen and the Precepts. Thank you to everyone who supports the Priory by coming along to events, by making financial donations or by offering time and energy to help in various ways – it is a joy to be able to train with you. May the Priory and its Sangha be a refuge for all who wish to meditate and live a Buddhist life.
Forthcoming events
Looking ahead to the spring, we have a date for our annual Wymondham day retreat – it will be on Saturday 21st April. It will be held at Fairland Church Centre, our usual venue, which works well as a place for our larger gatherings. The retreat will begin at 10.30am, with people welcome to arrive from 10.00am onwards, and it will finish at 4.00pm. You can come along for part of the day, if you're not able to stay for the whole retreat. More details will be posted nearer the time.
The Priory will be closed from 5th to 12th January, as I'll be convalescing from surgery. The Priory will be open on the evenings of Tuesday 9th and Wednesday 10th, for the Sangha to meet together and listen to a recorded Dharma talk.
On Saturday 13th January, we'll be holding our first Discussion Morning, which will start at 10.00am. We'll be looking at training with depression and other mental health issues, with an emphasis on exploring how meditation and Buddhist practice can help our mental wellbeing.
The next Sangha Stroll will be on the afternoon of Saturday 27th January at Mousehold Heath. The stroll will begin at 1.45pm and will be followed by a hot drink in the Britannia Cafe. More information can be found on our Sangha Activites page.
Recent events
There have been plenty of opportunities, both formal and informal, for us to come together as a Sangha over the past month. We have celebrated various ceremonies, including the Festival of the Buddha's Enlightenment in early December, as well as the New Year Ceremony and a Renewing the Precepts Ceremony for New Year's Day. A relaxed social gathering took place for our Christmas meal at River Green Cafe in Trowse. Thank you to those who helped to organise this event and to those who came along and made it such an enjoyable evening – below are a couple of photos taken during the meal.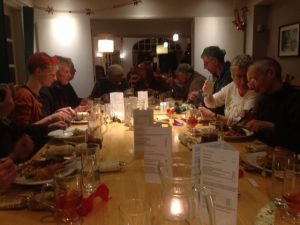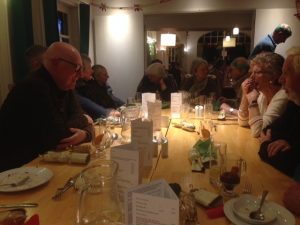 In the previous newsletter, there was mention of a photography exhibition on meditation by one of our Sangha, Guy Wilkinson. This has now been posted online and the photos used in the exhibition, including portraits of some of our Sangha and of some monks and lay residents at Throssel Hole Buddhist Abbey, can be viewed here.
Thanks
I am very grateful to those people who looked after the Priory while I was away in December and especially for enabling the Wednesday Dharma Evenings to continue to happen. Many thanks also to those people who have offered help and support for my forthcoming convalescence. Thank you too for the festive gifts and cards that came to the Priory over the holiday period.
With best wishes and in gassho,
Reverend Leoma.