Forthcoming events
On Saturday 2nd February at 10.00am, there will be another Discussion Morning on training with physical health issues (including pain and ageing). When we had a discussion on this topic in October, people found it helpful to share experiences of training with these issues and wished to continue exploring this area. You're welcome to come along and join the discussion – it doesn't matter if you didn't attend the previous one.
Our annual Wymondham day retreat will be on Saturday 30th March. It will be held at the usual venue, Fairland Church Centre, a space that works very well for these larger gatherings. The retreat will begin at 10.30am, with people welcome to arrive from 10.00am onwards, and it will finish at 4.00pm. You can come along for part of the day, if you're not able to stay for the whole retreat. The schedule for the day can be found here. More details will be posted nearer the time.
Recent events
We had a lovely celebration of the Festival of the Buddha's Enlightenment in early December. Besides it being an opportunity for the Sangha to meet together, we welcomed Rev. Master Olwen, who was visiting the Priory for a few days. She made a significant contribution to the discussion that followed the Dharma talk, which was based on a famous passage from Great Master Dogen's Genjokoan: "When one studies Buddhism, one studies oneself; when one studies oneself, one forgets oneself; when one forgets oneself one is enlightened by everything and this very enlightenment breaks the bonds of clinging to both body and mind not only for oneself but for all beings as well. If the enlightenment is true, it even wipes out clinging to enlightenment, therefore it is imperative that we return to, and live in, the world of ordinary men." Afterwards, we were all able to chat together over a bring-and-share lunch. It was a pleasure to have Rev. Master Olwen stay at the Priory and also to have her company as we drove up together to Throssel Hole Buddhist Abbey for the monks' retreat. The photo below was taken just after the ceremony.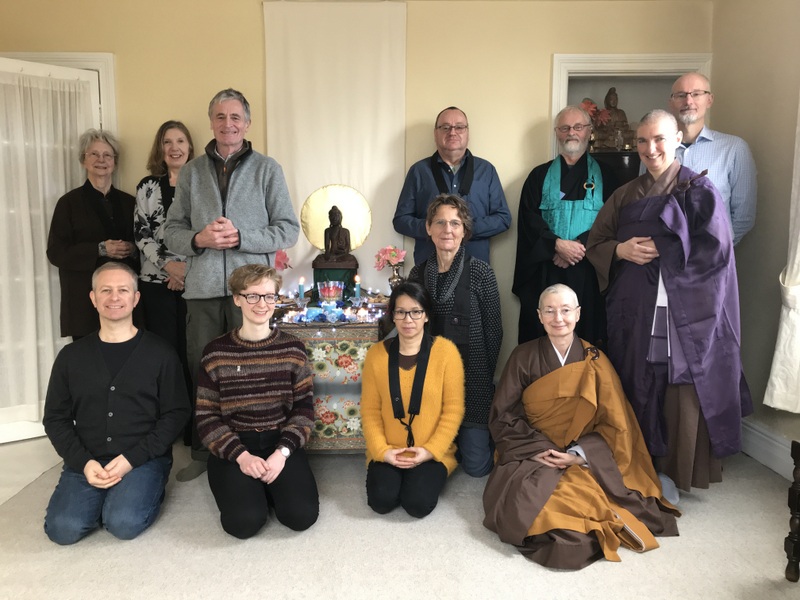 Our Christmas meal in mid-December at River Green Cafe in Trowse was well-attended (we even had a waiting list for the occasion). It was a lovely get-together, as we were able to enjoy each other's company in a relaxed setting with some delicious food.
Between Christmas and New Year, the Priory had a brief but very pleasant visit from another monk, Rev. Master Baldwin, the Prior of De Dharmatoevlucht in Apeldoorn in the Netherlands. Along with Sandra Westhoff, a member of the Dutch congregation, he was passing through from the Harwich ferry to Throssel. As neither of them had been to Norwich before, I enjoyed showing them around some of the main sights of the city, including the cathedral.
On New Year's Eve, we marked the passing of one year to the next with the New Year Ceremony. This was an opportunity to express our gratitude for being able to train during the past year and our commitment to practise in the coming year. We followed this up on New Year's Day with a Renewing the Precepts Ceremony. As a new year began, it was good to reaffirm our wish to base our lives in meditation and the Precepts.
Thanks
I am very grateful to those people who looked after the Priory while I was away in December and especially for enabling the Basic Buddhism Evenings and Dharma Evenings to continue to happen. Also, many thanks for the donations of festive food and the cards that came to the Priory over the holiday period. Thanks also for the loan of a bed and bedding to help with accommodating our recent visitors.
With best wishes and in gassho,
Reverend Leoma