Forthcoming events
The Cambridge day retreat will take place on Saturday 22nd September, at the Quaker Meeting House, 91-93 Hartington Grove, Cambridge CB1 7UB. Doors will be open from 10.00am, with the retreat starting at 10.30am and ending at 4.00pm. The schedule for the day can be found here. You're welcome to come along for part of the day, if you're not able to stay for the whole retreat. If you are attending for the whole day, please bring a packed lunch with you. It would be very helpful if you were able to bring your own meditation equipment. There will be lifts offered from the Priory – if you'd like a lift (or are able to offer one), please contact me.
There will be a Basic Buddhism Course at the Priory this autumn, on Tuesday evenings, 7.30 – 9.30pm, from 9th October to 20th November. On 9th October, the meeting will be an introduction to meditation and Zen practice. Over subsequent weeks, a range of fundamental topics will be covered: finding an end to suffering; acceptance; karma and the Precepts; discerning what it's good to do; compassion; and no separate self. The format of these evenings will be similar to our usual Basic Buddhism Evenings. For more details, please contact the Priory.
There will be a Discussion Morning at the Priory on Saturday 27th October, starting at 10.00am, on training with pain and other physical health issues (including ageing). This is an opportunity to meet together and share experiences of living with these issues and to explore them in the context of meditation and Buddhist practice.
We'll be celebrating the Priory's fifth anniversary on Sunday 4th November and you are warmly invited to join us. The morning will include two meditation periods, starting at 9.30 and 10.00, followed by a festival ceremony for our founder, Rev. Master Jiyu-Kennett, at 10.40. Then there will be coffee with a Dharma talk and discussion. You are welcome to come along for any part of the schedule.
The Priory will be closed 1st – 8th October (inclusive), except for the Tuesday (2nd) and the Wednesday (3rd), when it will be open from 7.30pm, for the Sangha to meet together to meditate and then listen to a recorded Dharma talk.
Recent events
August was a pleasantly busy month at the Priory, as we enjoyed visits by three monks, which helped to remind us that we are part of a wider order.
Rev. Master Haryo, the head of our order, made a much appreciated visit to the Priory for a few days towards the end of the month. He was accompanied by Rev. Kanshin, from Throssel, who was driving and assisting Rev. Master Haryo on a three-week tour to temples in southern England and the Netherlands. Rev. Master Haryo's visit saw the largest gathering that the Priory has ever had, when eighteen of our lay Sangha joined the three monks for a Sangha Evening, which started with a bring-and-share supper and continued with a Dharma talk, followed by questions and discussion. Rev. Master Haryo also met people at informal teas on two other evenings and at meals hosted by Sangha members and he made himself available to anyone who wished to talk with him individually. We are very grateful to Rev. Master Haryo for the teaching that he gave during his stay and for his presence around the Priory, as well as for finding time to improve the wobbly doorknob on the front door.
The photos below show Rev. Master Haryo outside the Priory, with Rev. Kanshin and working on the front door.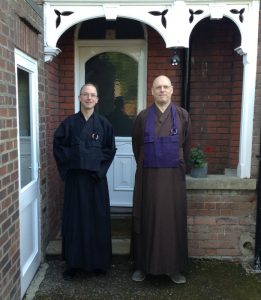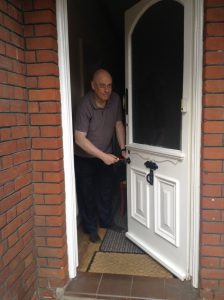 A week earlier, we were pleased to welcome Rev. Alina for a brief visit. Rev. Alina is familiar with priory life, having been Prior at Reading for three years, but this was her first time visiting Norwich. During her stay, she was able to join us for a Dharma Evening, which was very well-attended, and we are grateful to her for her contributions to the Dharma discussion. It was a nice opportunity for Rev. Alina to get to know some of our Sangha, several of whom she had already met at Throssel.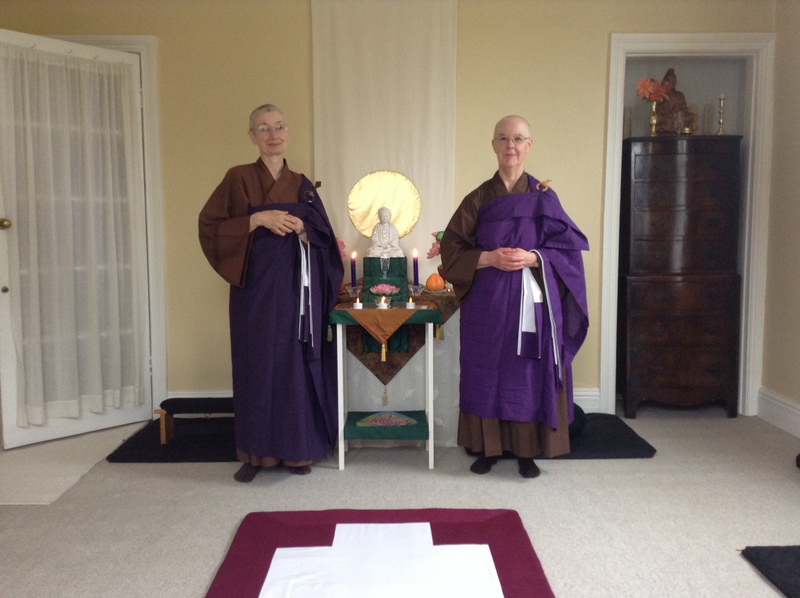 Thanks
A big thank you to the Sangha members who offered hospitality and food to the visiting monks during their recent stays. I am also very grateful to those people who helped with cleaning the Priory and tidying the garden to prepare for the visits. Thanks too for the work done to finalise the Priory's end-of-year accounts.
With best wishes and in gassho,
Reverend Leoma