Forthcoming events
There will be a Basic Buddhism Course on Tuesday evenings, 7.00 – 9.00pm, from 8th October to 19th November. This is suitable for anybody who is new to our practice, or anyone who would like to re-connect with it and have a refresher in the most important aspects. The first session will be devoted to an introduction to our form of meditation, zazen, and this meditation will be a significant part of each subsequent evening. Topics that will be covered in the talks given during the course include: finding an end to suffering; acceptance; karma and the Precepts; discerning what it's good to do; compassion; and no separate self. More information can be found here. To make a booking, or for more details, please contact the Priory.
On Saturday 19th October, we'll be having our annual Cambridge day retreat, at the Quaker Meeting House, 91 – 93 Hartington Grove, Cambridge CB1 7UB. Doors will be open from 10.00am, with the retreat starting at 10.30am and ending at 4.00pm. The schedule for the day can be found here. If you're not able to stay for the whole retreat, you're welcome to come along for part of the day. If you're attending the whole retreat, please bring a packed lunch with you. It would be very helpful if you could bring your own meditation equipment. There will be lifts offered from Norwich – please contact the Priory for more details.
On Sunday 3rd November, we'll be celebrating the Priory's sixth anniversary. There will be two meditation periods, at 9.30am and 10.00am, followed by a festival ceremony for the founder of our order, Rev. Master Jiyu-Kennett, at 10.45am. There will then be coffee with a Dharma talk and discussion, followed by a bring-and-share vegetarian lunch. You are welcome to come along for any part of the morning's schedule.
The Priory will be closed 17th – 30th September, except for the Tuesday and Wednesday evenings, when it will be open as usual, for people to meet together to meditate and then listen to a recorded Dharma talk.
Recent events
On 11th August, we had a lay ordination ceremony at the Priory, as Jane Leggett received the Precepts and formally became a Buddhist. The ceremony was attended by several Sangha members, who were able to renew their commitment to base their lives in the Precepts. It was a pleasure to enable Jane to take this important step and we congratulate her and wish her well as her life of training unfolds.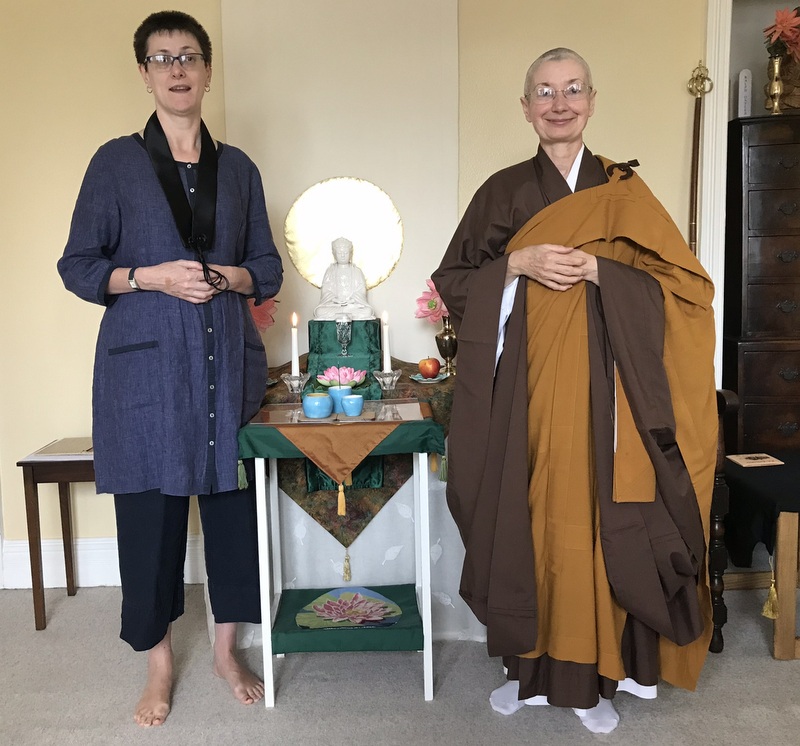 Thanks
I am very grateful to have had the opportunity for a week of retreat time in Blakeney in July. A big thank you to those who enabled that to happen, by offering me a place to stay and by looking after the Priory and keeping it functioning while I was away. As always, I am also grateful to those people who offer their time to help with keeping the Priory and its garden tidy, well maintained and welcoming.
With best wishes and in gassho,
Reverend Leoma