Forthcoming events
On Sunday 2nd December, we'll be celebrating the Festival of the Buddha's Enlightenment. We'll be having a bring-and-share vegetarian lunch and this will also be an opportunity to meet up with Rev. Master Olwen, who will be making her first visit to the Priory from Throssel. The morning will begin with two meditation periods and then the ceremony will start at 10.45am. After that, we'll have coffee and biscuits, with a Dharma talk and discussion, followed by the bring-and-share lunch. You're welcome to join us for any part of the schedule – full details can be found at this link. Rev. Master Olwen was Prior at the Reading Priory for many years, before returning to Throssel, where she is now the Head Cook.
I'll be away at Throssel from Tuesday 4th to Saturday 15th December (inclusive). During that time, the Priory will be closed, except for Tuesday 4th, Wednesday 5th, Tuesday 11th and Thursday 13th, when it will be open from 7.30pm, for the Sangha to meet together to meditate and then listen to a recorded Dharma talk.
I'll be away again, over the Christmas period, from Saturday 22nd to Thursday 27th December (inclusive). The Priory won't be open at all during that time. When I return, there will be an Afternoon Retreat on Saturday 29th December and then the Priory will be closed on the Sunday (30th). Monday 31st will be a Meditation and Contemplation Day, followed in the evening by meditation (from 7.30pm) and the New Year Ceremony (at 9.00pm). Tuesday 1st January will be a Sangha Morning with Renewing the Precepts Ceremony. There will be Dharma Evenings on the 2nd and 3rd, and then the Priory will be closed on Friday 4th January. Our calendar has details of all these events.
Recent events
On 4th November, we had a lovely celebration of the Priory's fifth anniversary, which included a festival ceremony for the founder of our order, Rev. Master Jiyu-Kennett. After the ceremony, we watched some video clips of Rev. Master Jiyu, including footage of her at Throssel in 1972 and her ordination ceremony in Malaysia in 1962. The photo below shows the Sangha gathered round the altar after the ceremony.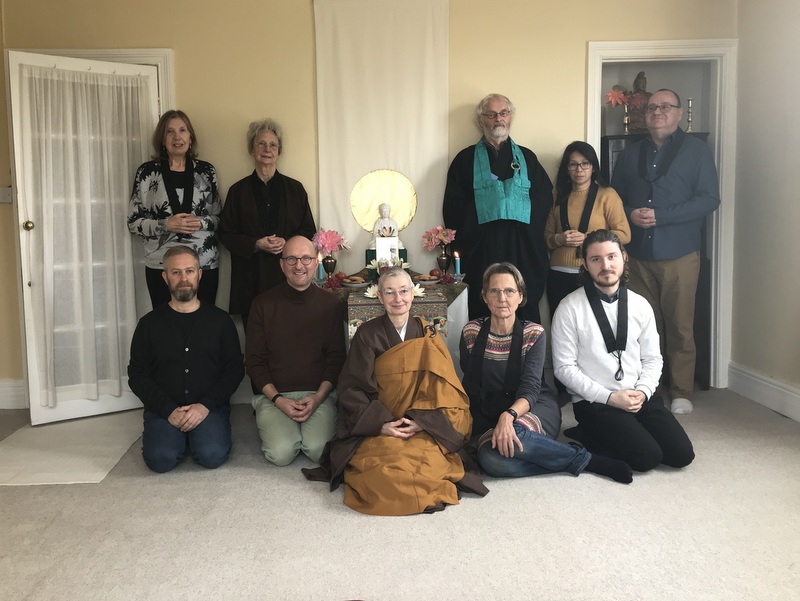 Our annual Cambridge day retreat on 22nd September was a much appreciated opportunity for the Cambridge and Norwich Sanghas to meet up and practise together. The Dharma talk and the theme for the day was the spaciousness of meditation. Thank you to the members of the Cambridge Group who organised the retreat and ensured it ran smoothly, as well as to those Norwich Sangha members who offered lifts to Cambridge on the day.
On 27th October, there was a was well-attended Discussion Morning on training with physical health issues (including pain and ageing). People appreciated the opportunity to talk about difficulties that they had encountered and how they were working with them. We were also able to come up with some helpful suggestions in this area. We'll be having another discussion on this topic on Saturday 2nd February.
Thanks
There has been a lot of work going on recently to tidy up the garden and my thanks to everyone who has helped with that. In particular, some small trees have been donated, which now fill up much of the space in front of the new fence, next to the stump of the copper beech tree, making that area seem less stark. A special mention goes to six-year-old Martha, whose help was invaluable with planting and watering-in the trees (see photo below).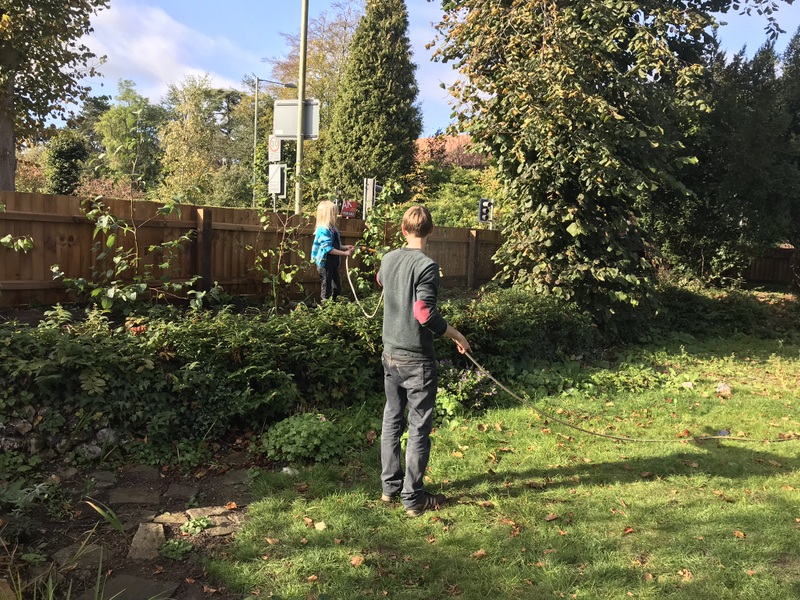 I am very grateful too for the assistance that I've had recently with Priory housework, computer and mobile phone queries, and producing the Priory's Enlightenment cards, as well as the ongoing work on the Priory's accounts.
With best wishes and in gassho,
Reverend Leoma