Forthcoming events
Our celebration of the Festival of the Buddha's Enlightenment will be on Sunday 1st December. The morning will include two meditation periods, starting at 9.30 and 10.00, followed by the festival ceremony at 10.45. Then we'll have coffee and biscuits, with a Dharma talk and discussion. You're welcome to come along for any part of the schedule.
The Priory will be closed from Monday 2nd until Friday 13th December (inclusive), as I'll be away at Throssel for the monks' sesshin. For the two Tuesday evenings during that time (3rd and 10th), people will be able to meet together from 7.00pm to meditate and then listen to a recorded Dharma talk. I'll be away again from Monday 23rd to Saturday 28th December (inclusive). The Priory won't be open at all during that time.
Tuesday 31st December will be a Meditation and Contemplation Day, followed in the evening by meditation (from 7.30pm) and the New Year Ceremony (at 9.00pm). On Wednesday 1st January, there will be a Sangha Morning with Renewing the Precepts Ceremony and there won't be a Dharma Evening. There will be a Dharma Evening on Thursday 2nd, as usual. Our calendar has details of all these events.
Looking further ahead, we have a date for our annual day retreat in Wymondham, which will be on Saturday 28th March. It will take place at the usual venue, the Fairland Church Centre, and it will run from 10.30am until 4.00pm. More details will be posted nearer the time.
Recent events
Our retreat in Cambridge on 19th October was an opportunity to sit in stillness for the day and this was much appreciated by the members of the East Anglian Sangha who attended. The quiet space of the Hartington Grove Quaker Meeting House was an ideal venue for the day. It is always a pleasure on these occasions for old friends and new from both the Cambridge and Norwich groups to be able to meet up and practise together. The quiet day of meditation and contemplation focussed on the subject of 'Trusting' and what that means in zazen and in our everyday lives. Thank you to the Cambridge group, for hosting the event and ensuring that it ran smoothly, as well as to those people who offered lifts from Norwich to the retreat. Below are a couple of photos of one of the meditation periods.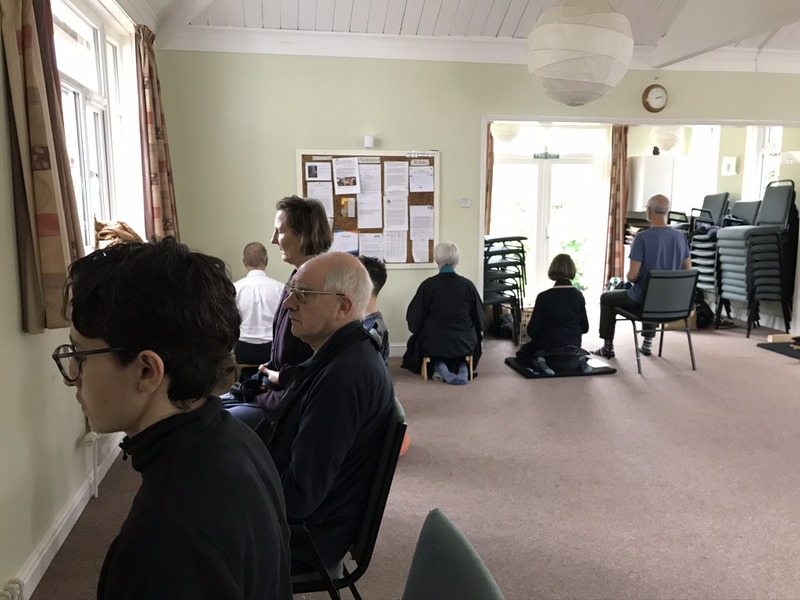 On Sunday 3rd November, we celebrated our sixth anniversary, with a festival ceremony to express our gratitude to Reverend Master Jiyu-Kennett, the founder of the Order of Buddhist Contemplatives. Afterwards, we enjoyed coffee and biscuits, with a Dharma talk and discussion on the 'Scripture on the Immeasurable Life of the Tathagata' which we always chant during this ceremony. That was followed by a bring-and-share lunch, which gave us the opportunity to chat and enjoy each other's company. Below is a photo taken just after the ceremony.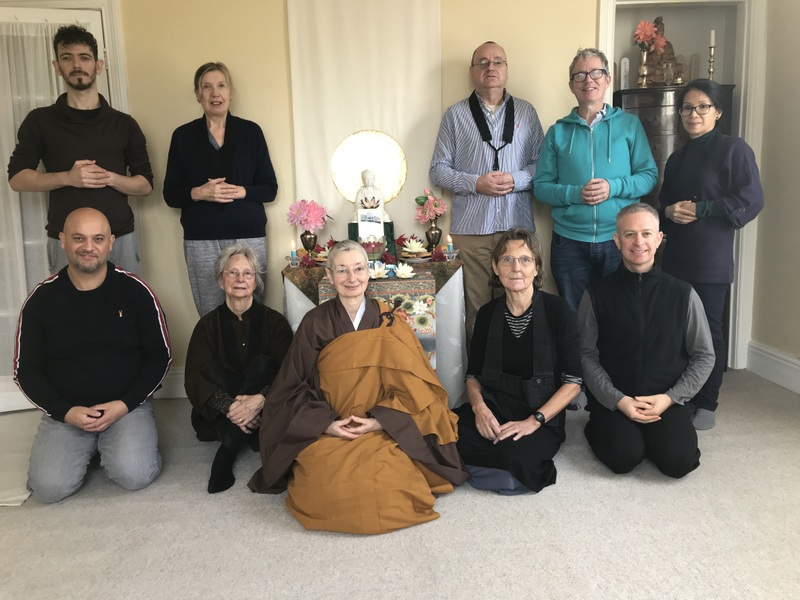 Thanks
Thank you to everyone who looked after the Priory and kept it open for some evening events while I was away at Throssel for the monastic gathering in September. I am also grateful to the people who help the Priory to keep going by assisting with various tasks: cleaning and housework; gardening; DIY; and the book-keeping and accounts.
With best wishes and in gassho,
Reverend Leoma